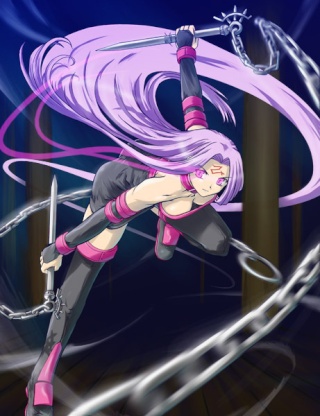 Name: Hinaya Inarashi
Age: 23
Gender: Female
family: Black sky
Date of Birth:March 24th
Goal: To rid of the snake mark curse
history:Haniya was born into a blacksmithing family. At a young age she was cursed with a symbol marking of a snake on her forehead. This curse was to make it so she'd turn into a killing machine when ever she were to get emotional. However, during her teens she found ways to conquer the curse and use it for own benefits. She later took up becoming an assassin at the age of 18 and ever since has been on constant missions.
race:human
Looks
hair style and length:
height  5'6"
muscle tone: Small and slim.
breast size: C
vein size: no visible veins on skin.
muscle growth rate: Her muscle grows with her snake curse spell etched on her forehead.
power
Power type: Uses a double bladed kusarigama accompanied by the magical power given to her. 
history of use: Her attacks are swift and snake like. She mostly uses her powers on assassination contracts.
weakness: Ethereal opponent's
strengths: close-ranged physical opponents, flexibilty, intellect, and power of persuasion. 
power history: Her power guided her to what she is today. The symbol of the snake was a curse given to her at a young age but, she used it the power to help build her own way of fighting.
Other
any other info you want to put:
______________________
Predecessor of the Shadows