KumoKittDawn
Top Recruiter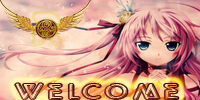 Posts

: 1112


Points

: 4569


Karma

: 42


Join date

: 2010-11-12


Age

: 24


Location

: Where am I...? >.>


Subject: GET TO CLASS! (All you need to know! Read here first!) Mon Sep 03, 2012 6:40 pm

---

Vampires, succubi, witches, and snow women! Oh my!
(And of course you can't forget the sirens, werewolves, and yeti's!)
...what am I listing here exactly?
Oh nothing in particular, just the average attendees of Yokai Academy!

Yokai Academy is known as a school that keeps the balance between monsters and humans.
There's a large barrier that protects the school and keeps the pesky humans out.
At least...that's what we thought it did until Tsukune Aono found a way inside.

After some time however, we realized that his presence at our Academy didn't disturb us, but instead
brought forth hope that maybe all humans weren't the same. (douche bags...cough)

At the academy, everyone stays in their "human" forms.
And perhaps the classes are normal, but the students (and staff) most definitely are not.
What with constant rivalries, harems, acts of mindlessness, (and those peeping Toms!)
maybe we've still got a lot to learn.
Not just how to interact with humans, but each other as well.