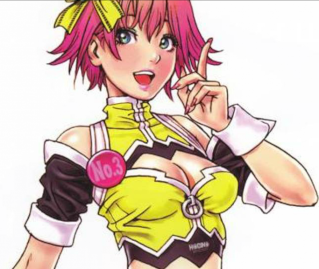 Name: Kiiro Kaori
Nickname (Optional): Ki-Chan
Age: 17
Gender: Female
Appearance: Short pink hair and green eyes.
Usually wearing strange or
costume-like outfits. Hair color changes often.
Title: Sunny Striker
Road: Sonia Road
Regalia: Thorn Regalia
A-T's Color: Sunset Colors
Team (Original is recommended): -undecided-
Leader: -undecided-
Members: -undecided-
Emblem: -undecided-
Team Rank: -yet to be ranked-
(A-F. A being the highest - F being the lowest)
Personality: Wild, sassy, flirty, spontaneous, indecisive, reckless,
determined, lazy, protective, oblivious, tomboy, and strange.
Bio:
Growing up without parents, the young pink-head often got herself into all kinds of trouble. With only
a very hard working sister beside her, she often looked to her for direction. And it was at a young age that Kiiro's older sister,
Katori, was busted in action. Katori was found leading her own gang with the use of A-T's to keep dangerous criminals away from their
neighborhood. Kiiro didn't care much about the noble prospect, but instead saw interest in the A-T's themselves.
Katori took Kiiro in as a member, but only did this to keep Kiiro's recklessness under close watch.
A few years later in a battle for territory, the debris of a crashing warehouse took Katori's life and ended the Team; the members
splitting up after the loss of their leader.
It was after that that Kiiro calmed down considerably with her acts of disobedience, but she never stopped
training with her A-T's. She became loyal to the Sonia Road's style of fighting and followed in her sisters footsteps.
Kiiro was then forced to work many odd jobs in order to vent out her racing emotions and keep a roof over her head.
Her most recent job is delivering tools and mechanic parts to stores in the city that come in from overseas.
During breaks for leisure time, she often finds herself training on the beach or in her garage tuning up her skates to meet her
personal goal.
Kiiro has vowed, if nothing else, to one day take the badge of the gang that stole her sister away from her at any cost.